தேங்காய் பூ, thEngAi poo is the delicious spongy/crispy, edible cotyledon of the coconut that develops at the time of germination.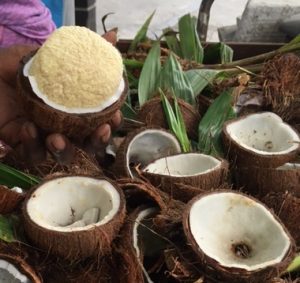 Once the fruit is mature, the seed is ready to germinate. Often, at the time when coconuts are being readied into copra to extract coconut oil, some of the coconuts might have started germinating; at that time people extract and enjoy the newly "fattened" cotyledon that fills the seed. [See 5:12 forward in the video of copra making.]
During the past couple of years, these seedlings have been sold in Chennai in carts that dot various neighbourhoods. Recently one cart-load came to Besant Nagar, and I took some pictures.