August 9 2017, 4 pm
Mandi House to Jantar Mantar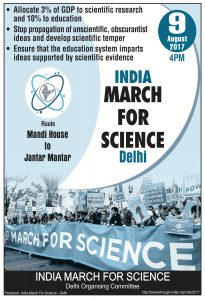 https://www.facebook.com/IndiaMarchForScience.Delhi/
In the context of various ways in which funding is being axed, it is important that scientists in India make their voices heard. A march is being organized across the country on 9th August.
http://breakthrough-india.org/imfs.html
Scroll down the page to find the contact in your state (West Bengal, UP, TN, Odisha, Karnataka, MP, Andhra & Telengana, Delhi) and/or to register.
==============================================
Here are some developments in Science Policy / Governance / Ideas that scientists might like to be aware of:
http://pib.nic.in/newsite/PrintRelease.aspx?relid=168594
http://indianexpress.com/…/applying-science-to-solve-probl…/
http://indianexpress.com/…/you-need-to-do-much-more-pm-mod…/