Ever since I got a fresh supply of assorted chiles from Oaxaca about a year ago (thanks to a kind niece, her husband and son), I've had in mind a meal–an assortment of salsas, each made using a different chile. It finally happened this past weekend. Here are some quasi-recipes; also some pictures.
Chiles pasillas
Chiles pasillas roasted and de-seeded (I would not de-seed next time): 3
Garlic cloves: 3
Grind with salt and minimal amount of water; I added a little vinegar to give it some sourness.
*I used the dry grinder jar.
Chiles anchos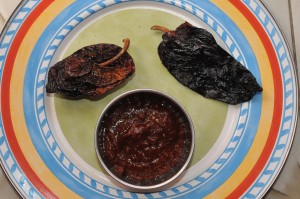 Chiles anchos, de-seeded, roasted: 4
Desi tomatoes small, nice and sour: 6
Onion chopped: 1
Vinegar: 1 T
1) Cover the roasted anchos with boiling hot water and keep aside
2) In the meantime, boil the tomatoes and onions in a saucepan (the original recipe didn't say anything about the onions; I just added them)
3) Blend all to a smoothish consistency
*Lots of this one because of the body provided by the tomato and onion.
Chiles guajillos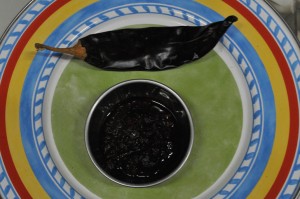 Guajillo de-seeded: 2
Garlic cloves peeled: 4
Cilantro (coriander leaves) chopped: 1/4 cup
Oil: 2 t
1) Place all but oil in a saucepan, just cover with water (about 3/4 cup)
2) Bring to boil, reduce heat and simmer 1 min
3) Keep aside to soften
4) Blend (I did not strain it as instructed; I like tissue)
5) Heat oil in a pan and let the whole simmer for ~ 15 min (not 30 min as instructed).
Salsa macha (chipotles)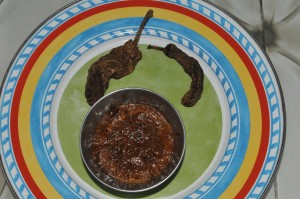 Chipotles: 2
Peanuts: 1/3 cup
Garlic: 4
Sesame seeds: 2 T
Gur melted in some water: ~2 T
Vinegar: 3 T
Oil: 1/4 cup
1) Add oil to pan (I used a small iron wok), fry the garlic, then chipotles, peanuts, sesame seeds [forgot how quickly things can char on cast iron, had to rush to take the fried ingredients out of the wok].
2) Cool, blend with salt, gur, vinegar, water.
The rest were made using the regular long mirch we get in India, closest to serrano, I believe
Various, mirchi/milagai

Sambal 1 (7 o'clock)
Grind to paste:
Peanuts, roasted: handful
Chiles: 4
Onion: 1/2
Garlic: 3
Gur: ~1 T
Curry leaves (not leaflets): 3

1) Heat oil, add curry leaf paste
2) Cook to desired consistency, until oil separates
Sambal 2 (4 o'clock)
Chiles: 3
Garlic 1
Kokam (substituted for tamarind) 1/3 cup
Peanuts 1/4 cup
Coriander powder 1/4 t
Galangal powder 1/4 t
Gur ~3T
salt

1) Soak the kokam for ~ 2 hr
2) Grind everything together to a paste 
Pachadi/tokku, santra zest (12 o'clock)
Santra peels, whites scraped off, chopped fine: 2 santras
Heat oil (1-2 t), mustard seeds, methi seeds, splutter
Add kari leaf, haldi, fry a bit
Chopped peels, a little water, gur, salt.
Cook to the consistency you want.