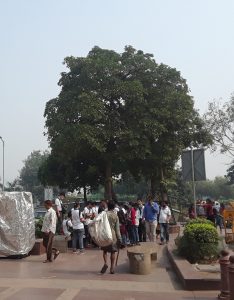 Finally, three months later than planned, I set off for a bit of shopping, target: Bihar emporium (Ambapali) to buy Bhagalpuri silk.
Get off the metro, out via gate 7, pass a group of "Asian Ambassadors of Peace" (or some such) being given instructions by their fearless leader.
Get to the crossing, on impulse go down the subway (underpass) and into "Khadi India" (no longer "Khadi Gramodyog"), get annoyed by their pricey stuff, get back on to Baba Kharak Singh Marg toward the emporia, get to Ambapali, and — IT IS CLOSED! Has been for a year for renovations, I am told by their neighbour  (Kashmir Emporium). So also Gujarat Emporium, but that has moved elsewhere. Sigh.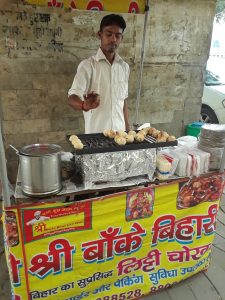 Wondering what to do next, I seek solace in filter coffee in the coffee house and back outside discover a stall selling litti and chokha. Curious, I stop and ask the vendor what litti (bread-like thing) is made of and he says, wheat filled with sattu. I want to try just one, and he gives it to me after dunking it in ghee–it is good! I learn that chokha is a bharta made of potato and brinjal.
Learn something everyday. And there is more to come.
I forge on ahead, past the coffee house, and go into the Assam emporium (Pragyotika), where I find what I want.
I decide to go to an exhibition of paintings by Gond artist Jangarh Singh Shyam in Bikaner House, flag down an auto, which takes me past these new sights in CP (have't been there for quite a while) — influx of other kinds in a very different milieu.
Bikaner House, sigh, is closed "Aaj chhutti haiji." Naturally. Why would you think anyone would work on Bhai Duj? But you are working, I point out to the person at the "design" store. We are private. Hmm. One version of PPP (private public partnership), beloved of recent governments?
Disappointed (given the exhibition will close on Oct 24, three days on), I turn away — to discover, not only that they make shrikhand in Rajasthan (I only knew it from Maharashtra and Gujarat), but also that buses still ply from Bikaner House to different places in Rajasthan.
I cannot get over the fact that, almost every time one steps out, one is likely to discover something new / anew in this wonderfully diverse country.